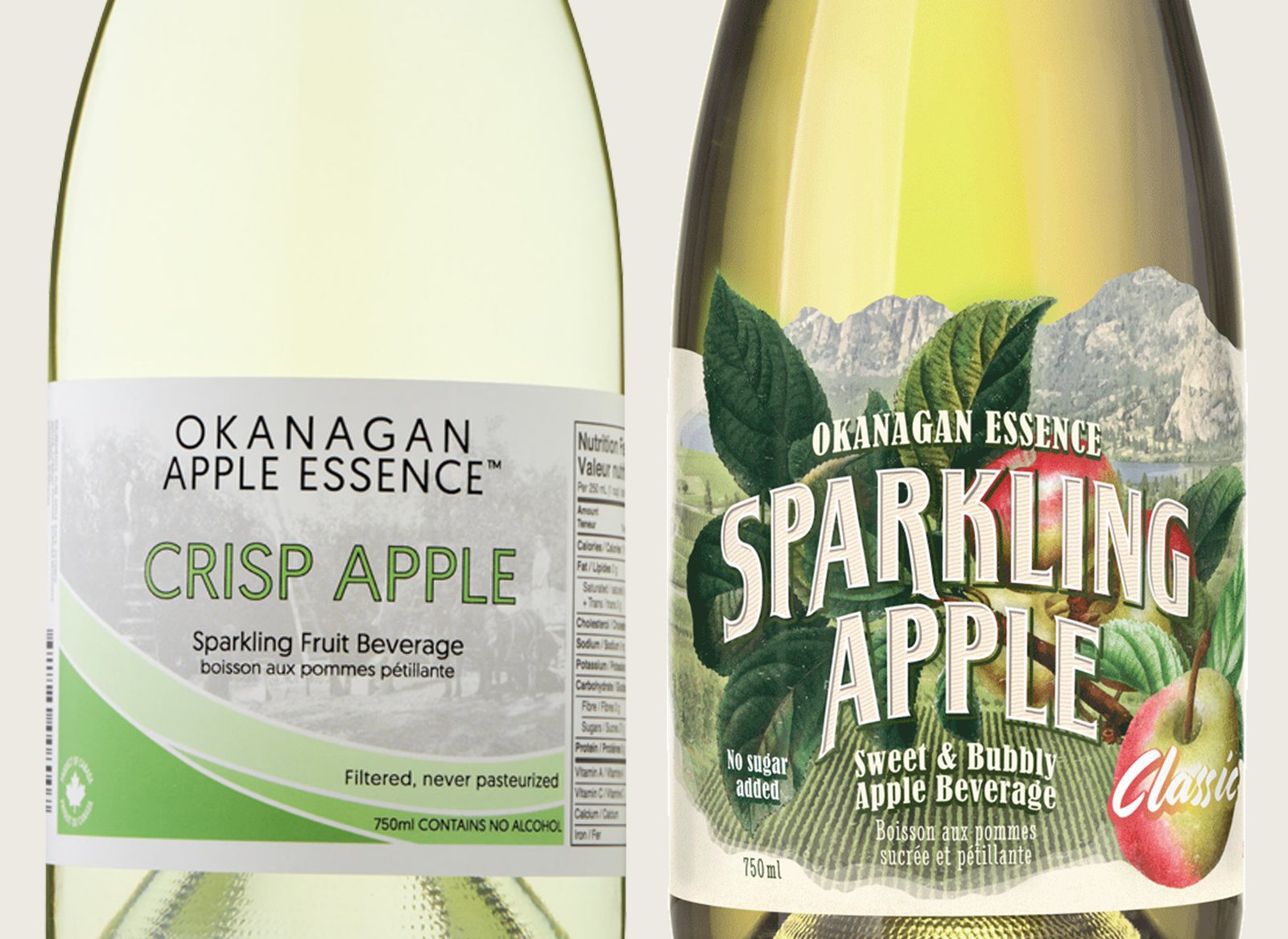 Uncommonly delicious: refreshing a vibrant Okanagan beverage brand
Overview
Two years after taking ownership of an Okanagan juice company and tightening the quality and production methods, the two entrepreneurs behind Kelowna's JR beverages were ready to step out with a new look and stepped out with us for a sparkling beverage label redesign that will drive their other sales and marketing activities.
Brandolier has been selected to completely reinvigorate their outward appearance while ensuring that the top-notch, quality sparkling juice products are not lost to anything glitzy or over-conceived. 
Leveraging our experience in wine branding and packaging, we have created an effective suite of labels that will act as drinkable postcards for the summer traveler.
Formerly marketed as Okanagan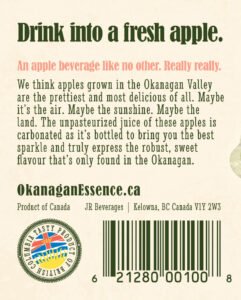 Apple Essence, the apple-based sparkling juice products are popular with seasonal travelers through the Okanagan Valley and sold through many winery tasting rooms and fruit stands. 
The beauty of these delicious products is in their flavour and and proper sparkle, thanks to carbon dioxide being added to the juice as it's being bottled, versus the addition of carbonated water that many "on the wagon" sparkling juice brands employ. 
More than a label

Available in five delicious, fresh-pressed, unpasteurized varieties (apple, apple-peach, apple-pear, apple-raspberry and apple-cherry), each label features several hidden "Easter eggs" to discover throughout the labels. For families driving with children, even a five-minute break from "are we there yet?" is a welcome respite.
In addition to the label redesign, Brandolier has been tasked with developing a new website and social presence, custom retail display stands, retail materials, media materials, sales materials and Darren's favourite: recipes (InstantPot Pro Tip – switch out water for this sparkling product when cooking a brisket or pork loin. You're welcome).
Watch this space for more as we build into the spring and summer season, starting with this sparkling beverage label redesign. If you're local to Vancouver and want to try your hand at some mixology or recipe development, let us know! We might be able to hook you up with a bottle or two!